From Marie Curie: "Re: clinical trials. GE with the Centricity Business solution offers an integrated clinical trial and billing management solution called Patient Protocol Manager. This is a new solution and fully integrates the access, billing, and revenue pieces between clinical trial and billing management with Centricity Business (formerly known as IDX). Albert Einstein post refers to the need for a solution." Thanks. I would be interested to hear from any users actually using clinical trial software solutions.
The executive manager of the Center for Bone and Surgery (FL) details his practice's transition to an unnamed EHR. Since implementing the EHR three years ago, patient encounters have grown 25% annually, with administrative and clinical costs rising only about 5% a year. The leader of the nine-doctor group also believes the EHR has enhanced their quality of care.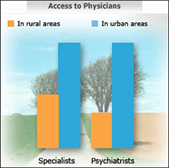 A new report from the office of the HHS Secretary suggests that the 50 million Americans living in rural areas have difficulty accessing healthcare, higher poverty rates, more health problems, and less insurance. Rural communities average 55 primary care physicians per 100,000 people compared to 72 per 100,000 in urban areas. With one in five Americans living in rural areas, the Secretary's office is calling for comprehensive health reform that addresses these disparities.
An HHS report on National Healthcare Quality paints a pretty dismal picture of the quality of care being provided patients, or, at least the quality of reporting information. For example, 40% of diabetics don't receive prevention exams and only half of obese patients are given appropriate advice on exercise and healthy eating. The use of HIT and standards-based data may provide better tools to capture data and report on quality measures.
Texas Medical Associations makes EMR selection easier with a new tool designed to help physicians in the selection process. The program provides side-by-side comparison of eight of the top products used by Texas physicians and helps estimate costs.
RelayHealth's PatientCompass earns the "Peer Reviewed by HFMA" (Healthcare Financial Management Association) designation for the third straight year. To attain the designation, RelayHealth had to undergo an 11-step screening process by a panel of current and potential customers and expert HFMA peer review board members.
The National Institute on Drug Abuse offers a new online screening tool for physicians that will help them assess patients' tobacco, alcohol, and illicit and non-medical prescription drug use. NIDAMED includes an online screening tool, a clinician resource guide, and a quick reference guide.
There is the medical care that most of us get, then there is the concierge model, and then there is Guardian 24/7. Founded by physicians who formerly served in the White House, Guardian provides "white-glove services" including immediate access to physicians and on-the-spot treatment, fully equipped hospital rooms built into homes and planes, and detailed medical emergency plans for officials, and dignitaries during their travels. The annual rate for most medical service plans is $25,000 a year. "Ready-rooms" for your home (or jet) can run from $175,000 to $1.25 million.
In an attempt to expand its pharmacy market, Wal-Mart begins testing free mail-order delivery of generic prescription drugs. Michigan will be the only state participating initially. Good news for consumers who can now call toll-free numbers to order generic medications for $4 to $10 each.
Sixty-two percent of Michigan physicians say their practices are full or almost full, which is 20% more than claimed the same in 2005.
To help alleviate the growing issue of physician shortages, three Congressmen introduce legislation to increase the number of Medicare-sponsored training positions for medical residents by 15% (about 15,000 slots). In 1997, the Balanced Budget Act froze the number of Medicare-supported resident training slots in hospitals at 1996 levels.
How does someone fake a complete medical clinic? A Florida man pleads guilty to conspiracy to commit healthcare fraud after officials discovered he had leased space in the name of other medical clinics, opened bank accounts, filed corporate documents, and received Medicare billing numbers. Meanwhile, officials found that the organization had no operations, employees, or equipment. In less than a year, the man filed more than $12 million in Medicare claims and received payment of about $3 million. He is now ordered to pay $3.9 million in restitution and serve four years in prison.