Voice Recollection & Otto Collect
A wonderful ENT physician and good buddy recently decided to try a new EHR system. (Let's call him "Charlie" to protect the innocent.) He was raving about it and sent me a letter using his new system with its incorporated voice recognition and, apparently, its autocorrect function. I don't think he read it before hitting "Send."
Thought you might enjoy:
---
High Greg,
I'm absolutely loving my new HER! As you no, I half never used voice recollection before, sew it has really been quite the new advent for me. Butt I think I'm finale starring to get the hang of it.
The new HER system has many great feats that I haven't even begun to underhand yet, but the sales guy assumed me that I would need and us them all, eventfully. I stated with the voice recollection stuff early, because it seemed as if it might be funeral and maybe even shortchange my Daley charting work low. Thus, I'm actuarially speaking this letter too you while I'm driving down to a see Emmy seminary in Cincinnati. (Getting a little refreshment on current happing's in eEmpty, like a cute Otis media, sinus I tis, and coop.) Donut worry, my wife is driving while I work on my I pad.
I like big butts and I cannot lie. You other brothers can't deny. [I'm guessing he had the car radio on!]
Anyway, I think I may stat using this voice recollection to do moor of my chatting. Its fun and seems like it might bee pretty easy to.
That said, attacked is the consort note on our Mutual of Omaha patient, John Smith.
Best rigors,
Charlie
---
ATTACHMENT:
Subjunctive: Patient is a 3 year old wife mail who presets today for follow up of bicameral tympany tube placemats. Patient has dun well since tube placemat.
Objection: Patient is allured and active. Tympany tubes are in good position and tympany members are clear. External audit camels are clear and without train age.
Asses mat: 3 year old wife mail statist post tympany tube placemat, doing fairy well.
Plan: Flow up in sick moths to retest earring.
---
And they say electronic notes are easier to read than handwritten!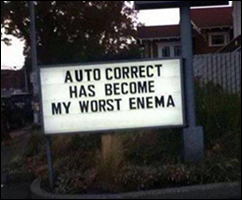 From the trenches…
(No slights intended to the wonderful voice recognition folks or any hardworking autocorrect programmers. Such tools really are much better than this extreme – and admittedly silly – example portrays.)
"I had to inject her with an epic penis…
…Damn autocorrect!…
…Epi Pen."
– Actual autocorrect texts from anonymous "Dad"

Dr. Gregg Alexander, a grunt in the trenches pediatrician at Madison Pediatrics, is Chief Medical Officer for Health Nuts Media, an HIT and marketing consultant, and sits on the board of directors of the Ohio Health Information Partnership (OHIP).
---
Contacts
Mr. H, Lorre, Jennifer, Dr. Jayne, Dr. Gregg, Lt. Dan, Dr. Travis
More news: HIStalk, HIStalk Connect.
Get HIStalk Practice  updates.
Contact us online.