Top News

HHS acknowledges it has been over-reporting the number of individuals who have signed up for insurance policies at Healthcare.gov by 400,000, adding fuel to the fire of Republicans who have filed a lawsuit against HHS and the Department of Treasury. HHS Secretary Sylvia Burwell told her staff that, "One of our most important obligations to the American people is to report information and data accurately. We are working quickly to understand what happened and to improve our processes in order to prevent similar mistakes from occurring again." Chairman Darrell Issa, R-Calif., didn't miss a beat, declaring that "… the administration engaged in an effort to obscure and downplay the number of dropouts." He has asked CMS Administrator Marilyn Tavenner to testify on the matter early next week. HHS now pegs enrollment, as of October 15, at 6.7 million, not the 7.1 million Burwell previously cited.
---
HIStalk Practice Announcements and Requests
I think it's no secret that healthcare IT consulting is in decline. As one HIStalk reader explains, "Very few large implementations remain, providers aren't chasing MU $, and uncertainty surrounding possible repeal of the ACA has Medicare heavy hospitals and health systems freezing spending. The market is dead." Can the same be said for physician practice consulting? Are opportunities dwindling at a similar pace, or have they dried up altogether? How much IT consulting will you use in 2015 versus 2014? Let us know via this poll and then click Comments to explain.
---
Webinars

Webinar recordings recently added to YouTube:
Improving Trial Accrual by Engaging the Digital Healthcare Consumer.


Cerner Takeover of Siemens, Are You Ready?
Mr. H reports that Vince and Frank have hit over 1,000 YouTube views in four days, giving them a good shot at surpassing Dim-Sum's all-time record. I'll reiterate my advice to anyone who has been in healthcare IT five years or less – do yourself a favor and listen to this great industry history lesson.
---
Acquisitions, Funding, Business, and Stock

MediGain acquires revenue cycle and PM company Millenium Practice Management Associates just a few months after receiving a $38 million in growth capital from Prudential Capital Group. The company expects the acquisition to significantly enhance its domestic and international presence, especially in India and Sri Lanka.

Blackstone Group co-founder Peter Peterson forms the Peterson Center on Healthcare, an offshoot of the Peter G. Peterson Foundation that will promote practices by hospitals, doctors, and others that cut healthcare spending waste. Advisory board members already include Ezekiel Emanuel, former advisor to President Obama; Joseph Antos, health economist at the American Enterprise Institute; Drew Altman, CEO of the Kaiser Family Foundation; and Bill Gates.
---
Government and Politics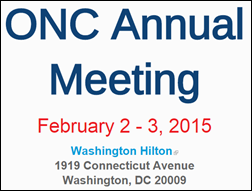 ONC schedules its annual meeting for February 2-3, 2015. There doesn't seem to be a registration fee, which is a good thing given that D.C. has a habit of shutting down during unexpected snowfalls. The teaser email I received notes that the meeting will include an "exciting panel of ONC's former National Coordinators." It will be interesting to see if Karen DeSalvo, MD becomes a fully former coordinator over the next two months.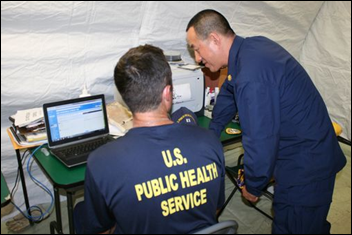 U.S. Public Health Service volunteers working at the first and so far only U.S. government-operated clinic in West Africa mourn the loss of their first Ebola patient, an unnamed Liberian nurse who came to the clinic in the final stages of the disease. "She was one of us," says Captain and lead physician Russ Bowman, MD. "This is what this unit is for — to provide care to folks … providing care for the people of Liberia. We're here to back them up. And we weren't able to save her. And that's a tragedy."
CMS schedules a provider call on December 2 to discuss changes to the Medicare physician quality reporting programs in the 2015 Medicare Physician Fee Schedule final rule. The call will cover changes impacting the PQRS, Physician Compare, EHR Incentive Program, Comprehensive Primary Care Initiative, and Medicare Shared Savings Program.

The VA solicits bids for a new medical appointment scheduling system to replace the one that's been in use since 1985. RFPs are due January 9, though it's likely that date will get moved back à la DHMSM.
---
Announcements and Implementations

The Kings County Sheriff's Office in Hanford, CA implements NaphCare's TechCare EHR, while the Louisiana Department of Public Safety and Correctional Services implements the company's medical claims management services.

Healthcare marketing analytics company Crossix Solutions expands its data network to include medical claims and EHR data, which means marketers can now create targeted campaigns based on patient health behavior across prescription, over the counter, consumer, and medical claims data.
---
Research and Innovation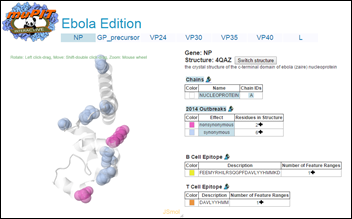 Johns Hopkins biomedical engineers develop Mutation Position Imaging Toolkit (MuPIT) Ebola Edition, a free online tool that enables researchers to visualize Ebola gene mutations in the context of 3-D protein structures. In layman's terms, it may give researchers new targets for preventive vaccines and serums to treat those who are already infected. The tool also connects with the new Ebola Genome Browser released  by the University of California, Santa Cruz, which offers detailed genetic information about the virus.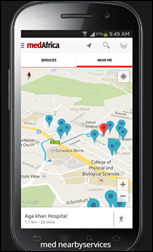 This article highlights 10 apps that are helping to reshape healthcare in Africa. MedAfrica, a remote diagnostic and symptom monitoring tool for those living in rural areas, seems especially ripe for growth given the Ebola epidemic.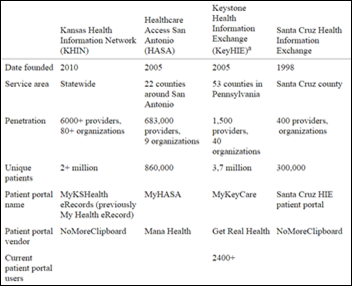 Researchers studying development and rollout of the first HIE-sponsored portals find that MU incentives may not be enough to drive adoption; and that functionality, connectivity, and cost will be the deciding factors between a HIE-sponsored portal or one tethered to an EHR already in use at a hospital or practice. The results are to be expected, making me wonder why the study was conducted in the first place. As a patient, the numerous portals I have the option of logging into for various providers is sometimes daunting, which in my mind reaffirms the clamor so many industry groups are making for interoperability in Stage 3 of MU.
---
People
Dave Morgan (Vista Consulting Group) joins Greenway Health as CFO.

David Toews (Tectrol) joins Nightingale Informatix Corp. as CFO.
Care Innovations forms an Advisory Board led by David Nash (Thomas Jefferson University) to help guide the CI Validation Institute, which aims to improve standards for measuring and promoting the benefits of population health and remote care management solutions and services.
---
Other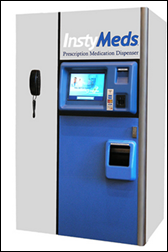 Arizona State University installs an InstyMeds prescription-drug vending machine on its Tempe campus to replace its on-campus pharmacy, which closed in September. Students obtain a personalized prescription security code via an ASU Health Services provider, which they then input into the machine along with their date of birth. The machine, which dispenses the 50 most commonly prescribed medications, scans the medication three times prior to dispensing, and honors the security codes for only 24 hours.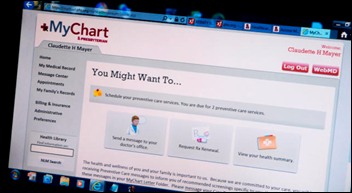 Presbyterian Medical Group (NM) sees a 20-percent increase in its Epic MyChart patient portal use over the last year, and expects utilization to increase from 85,000 to 100,000 patients by the end of 2014. Pediatrician Kevin Maben, MD notes that the portal helps him reduce in-person visits by between 10 percent and 20 percent, adding that, "It's an integral piece of what I use in the office."
---
2014 Health IT Leadership Summit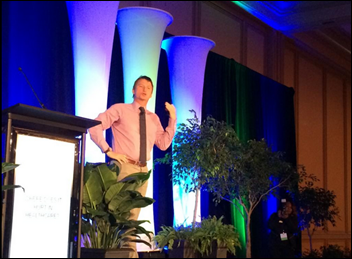 I had the opportunity to attend the fifth annual Health IT Leadership Summit in Atlanta last week, and as at MGMA, enjoyed connecting with readers and sponsors. Greenway Health used it as a platform to formally announce plans for a new technology development center, which will open in January just a few doors down from where the Summit was held.
Athenahealth CEO Jonathan Bush offered an entertaining keynote presentation on "Where Does it Hurt in Healthcare?" focusing on the need for innovative companies to avoid becoming mired in the typically inevitable problems associated with bloated growth and lack of strategic direction. His contrast of Microsoft and Apple helped illustrate the concept of "Upper Right Quadrant Syndrome" quite nicely. Extremely tweetable quotes included:
"$20 million is like valet tips at CMS."
"We're going Flock of Seagulls at DoD." (in regard to'80s-era healthcare IT already being associated with the DHMSM project)
"We're on track to having a hospital 'Black swan' event. 1st year that zero acuity beds were added."
"Entrepreneurs are doing porn & gaming on the West Coast. We're over here (in Atlanta) doing the hard stuff."
"We've made our healthcare system the spoiled, bratty fat kid."
"Instead of calling 911 and waiting for the ambulance … send me a paramedic in a Prius (much cheaper)."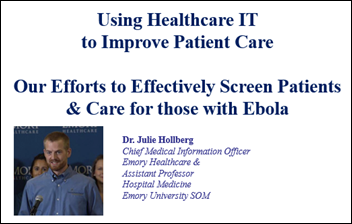 Bush's keynote was enjoyable, but my favorite presentation was from Emory Healthcare CMIO Julie Hollberg MD, who covered the health system's efforts to effectively screen patients and care for those with Ebola. She emphasized that Emory took many of its cues from the lessons at Texas Health Resources, adding that nurses were the key to successfully implementing Ebola-related clinical decision support tools both in its EDs and ambulatory settings, including urgent care.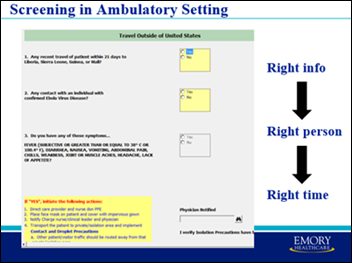 Getting those new tools implemented by their EHR vendor was challenging. While Hollberg didn't name the company outright (I'm pretty sure it's still Cerner), she did note that it took some convincing to get the company to push out the targeted screening questions Emory wanted. She made a good point in that physicians and vendors are in a tough situation with infectious disease outbreaks. Physicians don't want to see new forms in their EHR every day as disease data changes, and it's not very cost-effective for vendors to make them.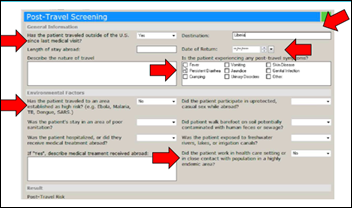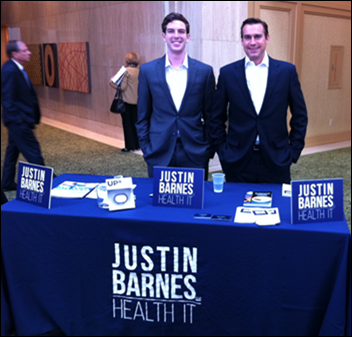 I ran into Justin Barnes, who co-sponsored the Summit's inaugural start-up pavilion. It's a natural fit given that he is now entrepreneur-in-residence at Georgia Tech's Advanced Technology Development Center  mentoring young companies looking to make a difference (and a profit) in the industry. He also keeps himself busy with new radio show This Just In (get it?), which focuses on  the latest trends in healthcare, innovation, policy, and strategy. (Seems like Mr. H and our DoD expert Dim-Sum might make for good interviews, hint, hint.)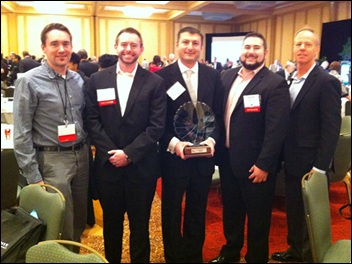 Numerous awards were given out. Jim Morrow, MD won the Metro Atlanta Chamber Phoenix Award for community leader of the year, while the Azalea Health team took home the Phoenix Award for emerging company of the year. (You can read my interview with Morrow here, and Azalea Health CEO Baha Zeldin here.) Predictive analytics company Jvion took home the Intel Innovation Award. I haven't had a chance to interact with Jvion's technology, though I have seen several company representatives speak on how they've helped clients transition to ICD-10. I remember their booths at HIMSS and ANI always being a lot of fun.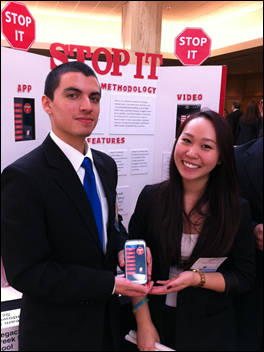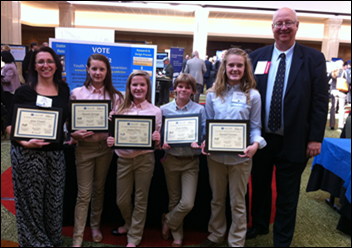 The Summit is unique in that it places special emphasis on encouraging students to become interested in healthcare IT through the Student Health IT Innovation Award. This year, high school and middle school teams were tasked with coming up with smoking cessation apps. The Meadowcreek High School team not only impressed me with its Stop It app, but also with their ability to work the crowd for votes. I had no trouble getting the award-winning Pine Grove Middle School team to pose with their certificates.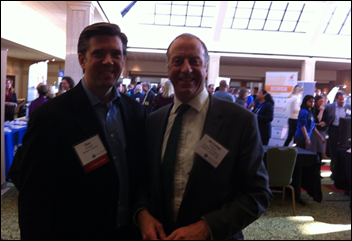 In the four years I've attended, I've found the Summit to be a great place for networking, and this year was no different. I had the pleasure of meeting several people, including Nick Peters, MD founder of the new Institute for Digital Health in London. Peters seemed to be in town drumming up awareness of the institute, which aims to be "a collaborative and authoritative body for all stakeholders and international alliances for promoting and sharing technological solutions, best practice and efficient routes to implementation." It seems like a timely concept given the fact that UK's Department of Health has issued a broad and bold patient-focused health IT plan covering the next several years.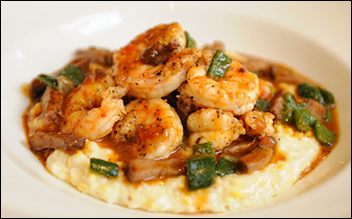 I ended the day dining with good industry friends at South City Kitchen, commiserating about the state of healthcare over shrimp and grits, and banana pudding. I suppose it's now time to think about booking my room for HIMSS and what to wear to HIStalkapalooza.
---
Sponsor Updates
GE Healthcare will resell Caradigm's single sign-on and context management solutions to integrate anatomic pathology information systems.
EClinicalWorks CEO Girish Navani pens an Entrepreneur article titled "The Case for Never Selling Your Company."
NextGen Healthcare earns top ranking among healthcare IT vendors providing outsourced billing / RCM.
---
Contacts
Mr. H, Lorre, Jennifer, Dr. Jayne, Dr. Gregg, Lt. Dan, Dr. Travis
More news: HIStalk, HIStalk Connect.
Get HIStalk Practice  updates.
Contact us online.
Become a sponsor.