Top News
Online healthcare marketplace MDsave receives a $12 million investment from private equity firm MTS Health Investors, and adds MTS Partner Oliver Moses to its board. The company will use the funds to bolster its platform, which offers cash-paying consumers access to negotiated savings on bundled healthcare procedures like office visits, imaging, and surgeries.
---
Webinars


May 19 (Tuesday) 2:00 ET. "Lock the Windows, Not Just the Door: Why Most Healthcare Breaches Involve Phishing Attacks and How to Prevent Them." Sponsored by Imprivata. Presenters: Glynn Stanton, CISSP, information security manager, Yale New Haven Health System; David Ting, CTO, Imprivata. Nearly half of healthcare organizations will be successfully cyberhacked in 2015, many of them by hackers who thwart perimeter defenses by using social engineering instead. The entire network is exposed if even one employee is fooled by what looks like a security warning or Office update prompt and enters their login credentials. This webinar will provide real-world strategies for protecting against these attacks.

May 20 (Wednesday) 1:00 ET. "Principles and Priorities of Accountable Care Transformation." Sponsored by Health Catalyst. Presenter: Marie Dunn, director of analytics, Health Catalyst. Healthcare systems must build the competencies needed to succeed under value-based payment models while remaining financially viable in the fee-for-service landscape. This webinar will outline key near-term priorities for building competency at successfully managing at-risk contracts, with a particular focus on the importance of leveraging data to drive effective decision making.
---
Tweet Chat

Amanda Greene (@LAlupusLady) will host the next #HIStalking tweet chat on Thursday, May 14 at 1pm ET. As a lupus sufferer, she's is particularly excited about hosting during Lupus Awareness Month. You can view discussion topics here.
---
Acquisitions, Funding, Business, and Stock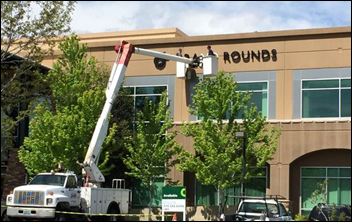 Grand Rounds opens its Sierra Patient Center in Reno, NV, where it expects to fill 200 jobs over the next several years. The San Francisco-based business offers a technology platform that helps consumers seek counsel and connect with leading physicians of various medical fields in order to get more accurate diagnoses and treatment, typically through an employer. The company also offers "Record Specialists," which collect and digitize medical records for customers – a service I'm sure many of us would prefer to pawn off on a third party if we were so financially inclined.
PM and consulting firm Medical Revenue Systems opens an office in Kingwood, TX.
---
Telemedicine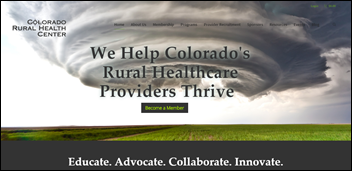 The Colorado Rural Health Center selects video-conferencing and decision-support software from Script Adviser to help improve infectious disease treatment in rural parts of the state.
The American Telemedicine Association calls the latest iteration of the 21st Century Cures bill a disappointment in its lack of telemedicine provisions. "The new version of the bill leaves the Medicare program in the slow lanes while states, private payers and every other developed nation are quickly adopting the use of technology to transform the delivery of health care," explains Jonathan Linkous, ATA CEO. "It is ironic that a bill titled the 21st Century Cures will leave Medicare and Medicaid patients firmly in the 20th Century when it comes to delivering healthcare."
---
Government and Politics

CMS looks for 850 volunteers from a range of provider and claim types to participate in ICD-10 end-to-end testing with Medicare Administrative Contractors and the Common Electronic Data Interchange contract the week of July 20. The agency will accept volunteers through May 22.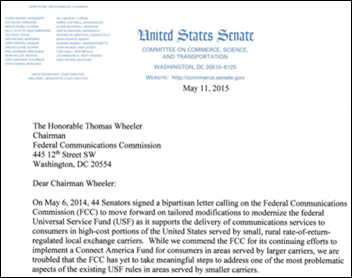 Sixty-one senators write FCC Chairman Tom Wheeler (nearly 20 more than signed a similar letter in 2014) asking for modernization of the federal University Service Fund, which helps bring broadband to rural communities. The program includes the $400 million Healthcare Connect Fund, criticized for its inefficiencies in helping providers adopt broadband. (For any AP sticklers out there, "POTS" is apparently an acceptable abbreviation for "plain old telephone service.")
Politico points out during National Women's Health Week that the VA is still implementing a 2013 recommendation that it develop a process for notifying patients of cervical cancer screening results and documenting those results in the department's EHR. The lag time highlights the more systemic challenges the VA faces when it comes to providing healthcare services for an increasing number of female vets.
---
Announcements and Implementations
The Minnesota Radiological Society partners with National Decision Support Co. to offer eligible physicians free access to NDSC's ACR Select portal, the Web-based version of the American College of Radiology Appropriateness Criteria. The portal, which can be integrated into an EHR, offers clinical-decision support and meets state payer preauthorization requirements.
---
Research and Innovation
A Twitter analysis finds that physicians tweet nearly 400 messages a day relating to cancer, with messaging related to breast, lung, and prostate cancers making up the bulk of information shared. More than 5,000 providers contributed to the social dialogue in 2014, with a small group of "superusers" doing a big chunk of the tweeting. Researchers surmise that further analysis is needed to determine the influence these social networkers have on information flow to colleagues and patients.
---
Other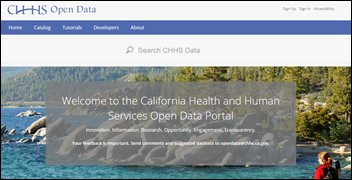 Techwire takes a look at the many projects and possibilities of the California Health and Human Services Agency's Open Data portal ahead of the National Day of Civic Hacking: Health 2.0 Developer Challenge in early June in Sacramento. The portal includes data sets, charts, and maps on population health indicators, facility performance, and access to services, among other categories. The competition will award a total of $20,000 to teams that harness the data sets to raise consumer and policymaker awareness around healthcare issues.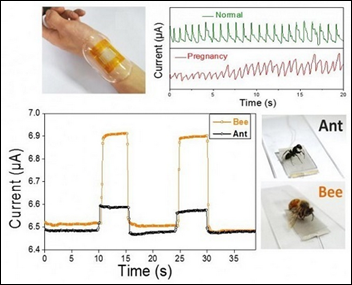 New technologies presented at Elsevier's 4th International Conference on Bio-Sensing Technology may soon make today's wearables look like the rotary dial phone gathering dust in my parents' basement. Scientists presented a credit card-sized device that consumers can use to analyze blood and saliva samples. Results can then be sent to an app or potentially an EHR. A new e-skin was also showcased, touting the ability to diagnose disease in real time and provide instant health assessments while being worn. Innovations like these make devices like the Apple Watch look quaint by comparison.
---
Contacts
Jennifer,  Mr. H, Lorre, Dr. Jayne, Dr. Gregg, Lt. Dan
More news: HIStalk, HIStalk Connect.
Get HIStalk Practice  updates.
Contact us online.
Become a sponsor.