Top News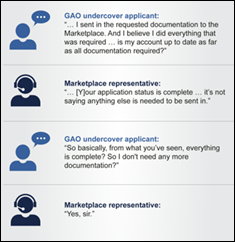 A GAO report finds that 11 of 12 fake accounts it created to test Healthcare.gov were approved for subsidies last year, and all 11 were re-approved this year, meaning that administrators have not managed to remove any of the fake accounts in its two years of operation. Democrats have balked at the findings. Sen. Ron Wyden (D-OR) has complained that, "… the report up for discussion today is not about any real-world fraud. Not one of them was a real person who filed taxes or got medical services. No fast-buck fraudster got a government check sent to their bank account."
---
Webinars
July 22 (Wednesday) 1:00 ET. "Achieve Your Quality Objectives Before 2018." Sponsored by CitiusTech. Presenters: Jeffrey Springer, VP of product management, CitiusTech; Dennis Swarup, VP of corporate development, CitiusTech. The presenters will address best practices for building and managing CQMs and reports, especially as their complexity increases over time. They will also cover quality improvement initiatives that can help healthcare systems simplify their journey to value-based care. The webinar will conclude with an overview of how CitiusTech's hosted BI-Clinical analytics platform, which supports over 600 regulatory and disease-specific CQMs, supports clients in their CQM strategies.
July 29 (Wednesday) 11:30 ET. "Earning Medicare's New Chronic Care Management Payments: Five Steps to Take Now." Sponsored by West Healthcare Practice. Presenters: Robert J. Dudzinski, PharmD, EVP, West Healthcare Practice; Colin Roberts, senior director of healthcare product integration, West Healthcare Practice. Medicare's new monthly payments for Chronic Care Management (CCM) can improve not only patient outcomes and satisfaction, but provider financial viability and competitiveness as well. Attendees will learn how to estimate their potential CCM revenue, how to use technology and clinical resources to scale up CCM to reach more patients, and how to start delivering CCM benefits to patients and providers by taking five specific steps. Don't be caught on the sidelines as others put their CCM programs in place.
July 30 (Thursday) 3:00 ET. "De-Silo Your Disparate IT Systems Around the Patient with VNA." Sponsored by Lexmark. Presenters: Steven W. Campbell, manager of diagnostic applications and interfaces, Piedmont Healthcare; Larry Sitka, VNA evangelist, Lexmark. The entire patient record, including both DICOM and non-DICOM data, should be available at the point of need. Disparate, aging systems that hide data inside departmental silos won't cut it, nor will IT systems that can't integrate medical images meaningfully. Learn how Piedmont Healthcare used a vendor-neutral archive to quickly and easily migrate its images and refocus its systems around its patients.
Previous webinars are on the YouTube channel. Contact Lorre for webinar services including discounts for signing up by July 31.
---
Tweet Chat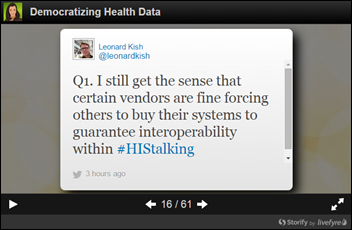 Check out the recap of today's #HIStalking chat on "Democratizing Health Data" with @leonardkish and @chasedave.
---
Announcements and Implementations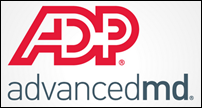 ADP AdvancedMD optimizes its EHR for multiple browsers, including IE, Chrome, and Safari.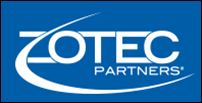 Zotec Partners launches the Zotec Interface for Physician Productivity, a workflow management tool for radiologists and radiology practices.
Premier Patient Health Care and Patient Physician Network form the Premier Patient Network to support clinically integrated, independent physicians in the Dallas-Fort Worth area. The new network will be driven in part by PPN's Premier 360 analytics tool, and will offer physicians access to programs and IT for care coordination, population health, predictive modeling, and post-acute care and transitional care management.
---
People

Nate Volkman (Welbe) joins BluePrint Healthcare IT as regional sales director, Midwest.
---
Government and Politics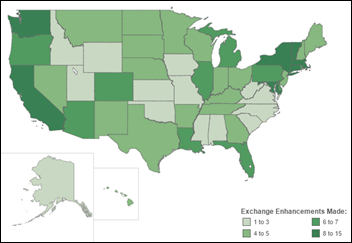 The National Health Council releases a report comparing the patient-friendliness of health insurance exchanges in all 50 states. California, Delaware, and Montana emerged as market leaders, irrespective of the type of exchange offered. Concerns among the other state's offerings included state oversight, transparency, non-discrimination, uniformity, and continuity of care.
---
Research and Innovation
The National Rural Health Association, Northwest Georgia Healthcare Partnership, and Verizon launch the Community Health Worker Patient Centered Diabetes Management Program, a year-long pilot that will study the link between technology, diabetes management, and outcomes. This pilot marks the first time the NRHA and Verizon have conducted such a study in a rural area.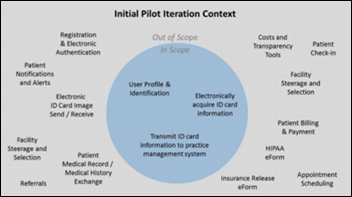 MGMA, HIMSS, WEDI, and The Sullivan Institute for Healthcare Transformation release the Virtual Clipboard Initiative pilot solution definition and design document, which outlines specifications for the initiative just getting underway. The initial phase will facilitate automated/mobile patient registration processes, including collection of health insurance and demographic data. The ultimate goal of the project is to automate patient intake and data transmission in an effort to reduce administrative costs and increase patient satisfaction.
---
Telemedicine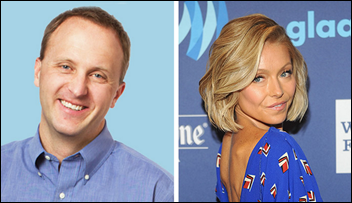 CNN posts a fun interview with Doctor on Demand founders Jay McGraw and Adam Jackson. My favorite snippet:
Q: If you could pitch to one person, who would it be?
JM: So far, pitching Bryan Roberts, a partner at Venrock, seems to be working out pretty well, as we just secured a $50 million round of funding, in which he played a big role.
AJ: Kelly Ripa. Moms are often the head of household and primary healthcare decision makers – and many moms respect Kelly.
---
Other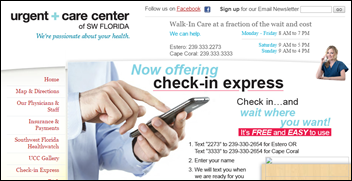 Urgent Care Center of SW Florida makes the local paper for its use of Check-In Express, a texting tool that helps cut down on patient wait times. The center has seen up to 300 people a month take advantage of the  program since its implementation.
If only I were going to be in Atlanta next week: AMA will host a town hall for physicians at the Westin Atlanta Perimeter North on Monday, July 20 from 7-8:30pm ET. The event, co-hosted by Rep. Tom Price, MD (R-GA) and AMA President Steven Stack, MD, will offer providers an opportunity to air their grievances (or share their successes) with Meaningful Use.
---
Contacts
Jennifer,  Mr. H, Lorre, Dr. Jayne, Dr. Gregg, Lt. Dan
More news: HIStalk, HIStalk Connect.
Get HIStalk Practice  updates.
Contact us online.
Become a sponsor.