Top News
CareSync announces $18 million in Series B funding with participation from Merck Global Health Innovation Fund, Greycroft Partners, and Harbert Venture Partners as well as existing investors. Founder and CEO Travis Bond tells me that the company plans to use the cash infusion to "invest heavily in research and development for both our consumer and provider-facing technologies. CareSync 3.0 will be the next generation in the patient-to-provider experience for coordinating care and information sharing." He added that CareSync also plans to hire an additional 500 employees within the next 18 months, which will likely coincide with office additions and expansions across the country.
---
#HIStalking Tweet Chat

Loran Cook (@loranstefani) will host the next #HIStalking tweet chat on Thursday, October 15 at 1pm ET. Stay tuned for discussion topics. Check out past chat recaps here.
---
Acquisitions, Funding, Business, and Stock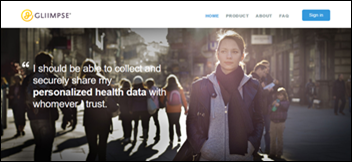 Silicon Valley startup Gliimpse launches the beta version of its automated personal health data platform for consumers. The self-funded company, just 18 months old, was selected as one of 10 finalists at Health 2.0's Launch! competition.

New York City-based Cureatr opens an office in Carmel, IN, as part of its Midwest expansion. "We consider our expansion in Indiana well-aligned with many of our near-term and long-term growth goals," says CEO Joseph Mayer, MD. "We recognize there is a lot of talent outside New York, and our office in Carmel gives us a base of operations from which to recruit and build a talent base."
---
People

Suzanne Hansen (Tinder Hansen Consulting) returns to DaVita HealthCare Partners as senior vice president of new market integration. Hansen held various positions within the company, including VP of operations, between 1991 and 2013.


Stratice Healthcare adds Ken Majkowski (KEM Consulting) as chief strategy officer and Jeff Benning (Medication Management Systems) as CFO.
---
Announcements and Implementations

Carrollton, GA-based Fogo Data Centers joins the Greenway Health Marketplace of value-added partners. Fogo CEO Bill Esslinger served in several executive positions at Greenway from 1999-2013.
NATE transfers administration of its Provider-to-Provider Trust Bundle to the California Association of Health Information Exchanges. The bundle, NATE's first, enables Direct messaging between providers across the nation. "California has been a core contributor to NATE since its days as the Western States Consortium, and CAHIE members include inaugural participants in NATE's Provider-to-Provider Trust Bundle," explains CAHIE Executive Director Robert Cothren. "This expanded relationship will allow our members to work more closely with NATE to share health information with consumers, while allowing CAHIE to focus on expanding exchange among provider organizations nationwide."
---
Government and Politics
CMS's proposed revised Meaningful Use standards will be published on Friday, October 16 with a 60-day comment period following, but are available now as a pre-publication PDF. It calls for a 90-day reporting period, removes some requirements, expands interoperability-related standards, encourages the use of APIs, and makes Stage 3 optional for 2017 and mandatory for 2018.
---
Research and Innovation
A survey gauging the love/hate relationship physicians have with technology finds their feelings aren't as black and white as you might think. The love: 69 percent feel data and analytics positively impact their ability to efficiently assess patients; 63 percent say they derive value and improved outcomes from chart documentation; and close to 60 percent feel they help identify and triage high-need patients, and improve workflow efficiencies. The hate: Nearly 20 percent of physicians feel EHRs have negatively impacted their profession; and 60 percent feel that data and analytics tools have negatively impacted recordkeeping time.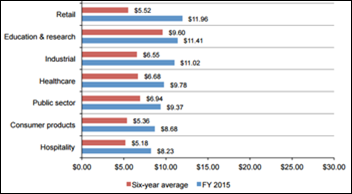 A 2015 cyber crime costs study ranks healthcare near the bottom of 14 industries that are typically on the receiving end of such incidents. Financial services, energy and utilities, and defense and aerospace take up the top three spots, spending a combined $79.13 million on repairing the damage done by privacy and data breaches. The study's authors make no bones about the fact that these kinds of costs are increasing, with the US far outpacing other countries in expenditures. It also notes that the most costly cyber crimes are those caused by denial of services, malicious insiders, and malicious code.
The Economist Intelligence Unit ranks Britain as the best place to die based on quality of palliative care, affordability, health are environment, and community engagement. The US came in ninth out of 10 high-income countries, with a score of 80.8, well below Britain's score of 93.9. You have to wonder how the Holy Grail of interoperability induced meaningful use will impact palliative care in the States.
---
Telemedicine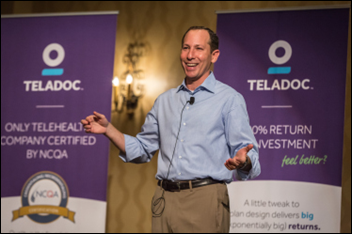 Teladoc CEO Jason Gorevic calls news that the company's stock dropped over 20 percent last week "massively overblown," adding that there's still "so much growth opportunity." Stock prices fell on the news that Pennsylvania-based payer Highmark would not renew its contract with Teladoc – a deal that accounted for $1.5 million of the company's projected $74.8 million revenue for the year. Highmark plans to switch some customers to similar offerings from American Well and Doctor on Demand.
---
Other

Wisconsin National Air Guard flight surgeon and Dean Clinic (WI) physician Brad Meyers, MD gives his boots-on-the-ground perspective of EHRs in response to a rather bland AAFP summary of EHR issues, offering a candid (and refreshing) take on the impact interoperability, Meaningful Use, and ICD-10 have had on his healthcare career as an independent and employed physician:
"I try to select the right code. The years of independent practice taught me the value of proper billing and coding. Do all my colleagues feel the same way? I rather doubt it. They bill for what they feel their service is worth rather than what they actually did. How much money is left on the table due to undercoding by a generous and caring family doc not wanting to burden his patient with bills? The health system says they cannot afford scribes for primary care. If I see two more patients per day, the scribe is paid for. Keep the patient education. Improve the interoperability. Encourage the facile communications with our subspecialist colleagues and move forward with chronic disease management and care coordination. The EHR helps with all of this. But give back to the physician that which the physician does best: building relationships with patients and managing complex medical problems. Then, someday, maybe, possibly … the EHR will show itself to be what it could be – a very useful tool in the care of the patient, a practice enhancer rather than a detractor."
---
Sponsor Updates
Aprima Medical Software will exhibit at the Patient-Centered Medical Home Congress October 9-11 in San Francisco.
The local news features Aurora Health Care's implementation of Clockwise.MD's online reservation system.
Blog Posts
---
Contacts
Jennifer,  Mr. H, Lorre, Dr. Jayne, Dr. Gregg, Lt. Dan
More news: HIStalk, HIStalk Connect.
Get HIStalk Practice  updates.
Contact us online.
Become a sponsor.