Top News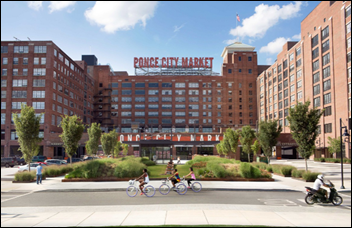 Athenahealth will increase its Atlanta-based workforce to nearly 1,000 over the next 12 months alongside a planned office expansion that will double its footprint at mixed-use development Ponce City Market. The Watertown, MA-based company opened its Atlanta office in 2013 with 500 employees, and has since surpassed its initial employee growth rate by 40 percent. The news comes just a few months after the company laid off 40 employees in Atlanta and 102 in San Francisco.
---
HIStalk Practice Announcements and Requests
HIStalkapalooza sign-ups are open. The usual rules apply:
Everybody who wants to come has to sign up on this form (even me) – nobody gets invited automatically.
Each person who wants to come has to sign up separately even if they're a guest of someone else (because we use an automated check-in system with individually barcoded tickets),
Signing up doesn't guarantee that you'll get an invitation since that depends on how many people I can invite, which is based on how many sponsors I get. Invitations will be emailed in three weeks or so.
We pay per click of the House of Blues turnstile and thus close the doors early in the evening since someone swinging by for a late-evening beer still costs many dozens of dollars. If you can't attend the whole event, please don't take up a slot.
Thanks to our HIStalkapalooza sponsors who are graciously making the industry's most talked-about event possible. Mr. H needs need a few more to hit the break-even point. Contact Lorre if you're interested and she'll work with you to create a fun sponsorship package for the party.
---
Webinars
January 18 (Wednesday) 1:00 ET. "Modernizing Quality Improvement Through Clinical Process Measurement." Sponsored by LogicStream Health. Presenters: Peter Chang, MD, CMIO, Tampa General Hospital; Brita Hansen, MD, CHIO, Hennepin County Medical Center. The presenters will describe how they implemented successful quality governance programs, engaged with their health system stakeholders, and delivered actionable information to clinical leadership and front-line clinicians. Q&A will follow.


January 26 (Thursday) 1:00 ET. "Jump Start Your Care Coordination Program: 6 Strategies for Delivering Efficient, Effective Care." Sponsored by Healthwise. Presenters: Jim Rogers, RN, RPSGT, director of healthcare solutions, Persistent Systems; Charlotte Brien, MBA, solutions consultant, Healthwise. This webinar will explain how to implement a patient-centered care coordination program that will increase quality as well as margins. It will provide real-world examples of how organizations used care coordination to decrease readmission rates, ED visits, and costs.
---
Acquisitions, Funding, Business, and Stock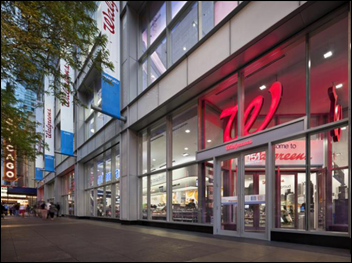 Several media outlets report that Walgreens is piloting a vision clinic at its flagship store on Chicago's Miracle Mile. The Boots Alliance company is looking to replicate the success of its chain of 636 retail vision clinics in the UK, some of which operate as standalone businesses.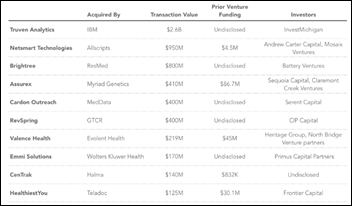 Rock Health releases its end-of-year digital health funding report. A record number of companies were funded in 2016, yet the total amount invested saw an 8-percent decrease to $4.2 billion. Most-funded categories included genomics and sequencing, big data and analytics, wearables and biosensing, telemedicine, digital medical devices, and population health management. Mergers and acquisitions were up 9 percent year-over-year, with Teladoc's acquisition HealthiestYou and Allscripts's Netsmart purchase likely being of the most interest to office-based physicians.
---
Telemedicine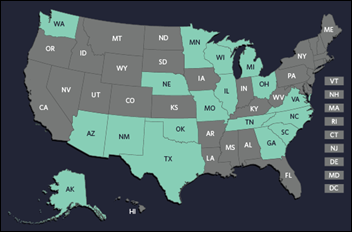 The Pew Charitable Trusts looks at the expanding use of telemedicine in public schools, pointing out that nearly 20 states have authorized Medicaid reimbursement for such visits. Ninety-eight percent of students in Maryland's Howard County schools, which began offering virtual consults in 2015 with the help of one local hospital and two private practices, have been able to immediately return to their classes after a telemedicine visit for non-contagious conditions during school hours.
---
People

Hoangmai "Mai" Pham, MD (CMS Innovation Center) joins the Duke-Margolis Center for Health Policy as a senior policy fellow.



Physician consulting firm Continuum Health Alliance hires David Kovel (Sage Growth Partners) as CIO, Andrew Christman (ZirMed) as GM/SVP of performance solutions, and John Juzaitis (Medfusion) as VP of commercial operations.
---
Announcements and Implementations
CompuGroup Medical US adds real-time genomic decision support tools from ActX to its WebEHR and Clinical EHR products. The addition will enable CGM users to check prescriptions for adverse reactions, dosing, and efficacy based on the full genomic profile incorporated into a patient's chart. The only caveat seems to be the "affordable patient DNA testing" that would need to occur beforehand – a practice that will likely grow in popularity based on the success of consumer offerings from 23andMe and Ancestry.com. (My genealogy-obsessed mother literally screamed with delight when I gave her a DNA testing kit for Christmas.) As a patient, I'd be much more likely to engage in such a service if it were offered to me at the point of care.

Newly opened West Sacramento Urgent Care (CA) goes live on Practice Velocity's EHR and billing services.
---
Government and Politics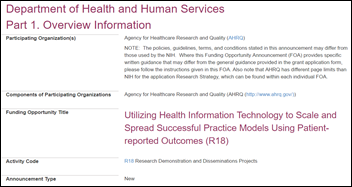 AHRQ announces a new funding opportunity for research that shows how health IT can improve "patient-centered health outcomes and quality of care in primary care and other ambulatory settings through the scale and spread of successful, health IT-enabled practice models that use patient-reported outcome measures to achieve these objectives." Interested organizations can start applying January 25.
---
Research and Innovation
I can't believe it's 2017 and we're still talking about patient portal problems: A Black Book survey of just over 12,000 consumers finds that 96 percent of patients have left their office visit with patient portal instructions that were either poorly communicated or miscommunicated. Forty percent have tried to use their physician's portal; 83 percent of those report finding it difficult to navigate from their home devices – a stat that in my mind points to the need for greater usability that caters to a wide swath of patient types. (Mr. H points out a number of other revealing health IT adoption stats here.)
---
Other
Scientific American makes the case for a cashless society, pointing out the many different types of bacteria found on bank notes and coins. American bills – a blend of cotton and linen – are particularly susceptible to picking up and carrying microbes from "a cocaine-sniffer's nose to a waiter's hands to someone's back pocket." Fun fact: Global studies of cash have found exceptionally high bacterial counts on money handled by food workers or on hospital grounds.
---
Sponsor Updates
Aprima employees donate over nine tons of food to Dallas-area families in need through Metrocrest Services.
AdvancedMD compiles its most popular e-guides and videos from 2016.
---
Contacts
More news: HIStalk, HIStalk Connect.
Get HIStalk Practice updates.
Contact us online.
Become a sponsor.