Top News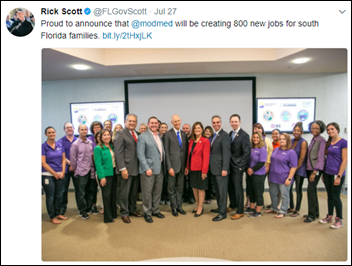 Modernizing Medicine plans to add 838 jobs and double its office space when it moves into new headquarters in its hometown of Boca Raton, FL. The EHR vendor, which employs 550, will use $6 million in government incentives to create the jobs by 2022 in exchange for investing $15 million in the region. Founded in 2010 by Dan Cane and Michael Sherling, MD after they met at a local physician practice, the company's news comes just two months after news of a $231 million investment from Warburg Pincus. "Now our big focus is around the patient," says Cane, "on mobile devices [to] access records and telemedicine experience; more information and power down to the patient."
---
Webinars
None scheduled soon. Previous webinars are on our YouTube channel. Contact Lorre for information on webinar services.
---
Acquisitions, Funding, Business, and Stock

EClinicalWorks says 1,000 providers selected its EHR in June, its strongest month so far this year.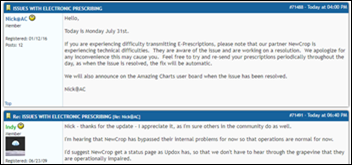 Amazing Charts users are temporarily unable to e-prescribe due to technical difficulties at NewCrop, its e-prescribing software vendor.
---
Announcements and Implementations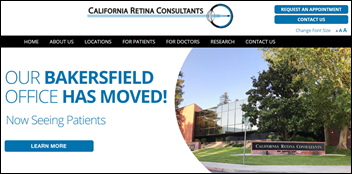 California Retina Consultants rolls out email security services from Identillect across its 10 locations in Central California. I'm honestly surprised I haven't seen more press releases from vendors touting new cybersecurity customers – though perhaps new customers don't care to broadcast their latest security measures to hackers waiting to pounce.
---
Telemedicine

Doctor on Demand looks to grab a hold of the now more telemedicine-friendly state of Texas with $10 video visits for citizens of the Lone Star State through September 3.
---
People

Miriam Paramore (Lucro Solutions) joins EHR-integrated prescription savings software company OptimizeRx as president.
TeamHealth hires Philip McSween (Baker Donelson) as EVP, general counsel, and corporate secretary.
---
Government and Politics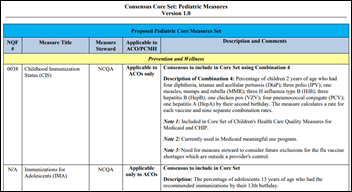 CMS releases pediatric core measures – one of eight sets that comprise the Core Quality Measures Collaborative, which aims to streamline quality measures across providers, payers, and other stakeholders.
---
Research and Innovation
Coordinated Care Organizations in Oregon seem to be making headway when it comes to ensuring mothers-to-be on Medicaid receive timely prenatal care. A look at CCO effectiveness in that particular area found that more women began receiving such care in their first trimesters as opposed to the year before the model began. There's still more work to be done, however. Researchers also found that improvement in timeliness was more pronounced in white and Asian women, and those living in urban areas. The CCO model for Medicaid was launched in 2012, providing incentives to providers who meet benchmarks related to ED visits, EHRs, cancer screenings, and prenatal care.
---
Other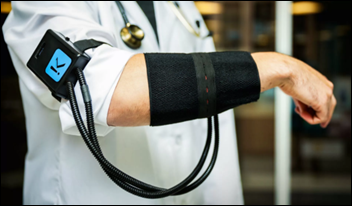 The New York Times looks at the developing world of empathy gadgets like the SymPulse, a blood pressure cuff-like device that enables the wearer to feel tremors akin to those experienced by Parkinson's patients. Devices are also being developed to mimic the symptoms of emphysema, psychiatric conditions, and diabetic nerve disease – all to help caregivers and even physicians better understand and empathize with patients.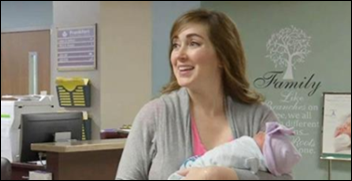 This takes multitasking to an entirely new level: Amanda Hess, DO delivers Leah Halliday Johnson's baby despite being prepped for delivery of her second child (and clad in a hospital gown to boot). Hess heard from her own hospital room that Halliday's baby was in distress, threw a cover over her gown, and went to help out while the on-call physician made his way to the hospital. Hess' contractions started just after she helped Johnson give birth to her daughter. Hess said that "It was a perfect way to get my own labor started."
---
Contacts
More news: HIStalk, HIStalk Connect.
Get HIStalk Practice updates.
Contact us online.
Become a sponsor.