From Mobile Man "Re: mobile format. Nice new mobile phone format for HIStalkPractice! Thanks." You're welcome and thanks to Mr. H for setting it up. If you have a smartphone, give it a try. It loads fast and looks mighty pretty.
GE acquires MedPlexus, an EMR PM vendor that targets the 1-10 physician practice market. My first thought was why would GE make this purchase given that they already have the Centricity product? However, if I recall my ambulatory EMR history correctly, Centricity EMR is not truly integrated with a practice management product, but interfaces with either the Centricity Practice Solution (the old Millbrook product) or Centricity Enterprise (the old IDX software). MedPlexus, however, appears to be a fully integrated PM / EMR / patient portal solution. It's also a hosted product, which is possibly a more attractive and affordable solution than GE's traditional client/server options. And, Centricity EMR has not had stellar KLAS ratings in the last couple of years, so perhaps GE needed a fresh option.
CCHIT says it will adjust its EHR certification programs and reopen applications and testing April 7. Test scripts will be available from the CCHIT website the same day.
Speaking of certification, MacPractice says it hopes to be the first Mac-based EHR / EMR solution to achieve certification, once all the certification guidelines are finalized.
AdvantEdge Healthcare Solutions, a provider of medical billing and practice management services, acquires AHP Billing Services. The purchase will expand AdvantEdge's offerings in pathology, radiology, and multi-specialty billing for hospital-based and practice-based physicians. AHP is the former billing and coding division of Anodyne Health. Last fall, athenahealth acquired the business intelligence segment of Anodyne Health.
athenahealth, by the way, picks up a new athenaClinicals contract with Hudson Headwaters Network (NY). The 12-location,100-provider group already uses athenahealth's RCM services.
In yet another acquisition, Ingenix purchases QualityMetric, a health outcomes measurement vendor that develops patient-reported outcomes surveys. 
Medisoft releases Medisoft 16, the latest version of its practice management software. Enhancements include integration with Medisoft Clinical EMR Software.
Lake Region Healthcare (MN) selects Allscripts EHR and PM solution for the 50 affiliated providers of Fergus Falls Medical Group.
Aprima Medical Software announces a value-added reseller agreement with CyTek Corporation. CyTek will offer Aprima EHR/PM solutions to its clients in Kansas and Missouri.
Practice Fusion launches a community page that  allows users to interact in real time with the EHR's software developers. Users can submit feature requests and suggestions from within the Practice Fusion software and direct them product developers.
Medical transcriptionists are heading to Capitol Hill to educate legislators on the importance of including dictation-transcription in the medical records process. In other words, members of the Association for Healthcare Documentation Integrity and the Medical Transcription Industry Association are asking lawmakers to help make sure the transcription industry doesn't become obsolete as physicians migrate to EMRs. The organizations are asking that the ONC, when finalizing the meaningful use regulations, explicitly acknowledge that the dictation-transcription process is a viable means for achieving meaningful use.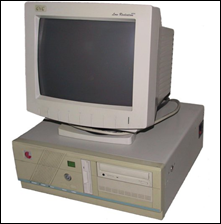 Reading that story reminded me of my vendor days when EMR was still a brand new product. We would visit doctors' offices, lugging 20 pounds of PC equipment, and provide product demonstrations of this sexy new technology. Invariably practices would ask the transcriptionists to sit in, since transcriptionists historically were very involved in the medical records process. Usually it took all of five minutes for the transcriptionists to realize that our product was meant to eliminate their jobs. The rest of the demonstration they'd sit back, cross their arms, and send darting glares our way. Ah, the good old days.