Top News
Azalea Health agrees to merge with simplifyMD in an effort to become a leading provider of a fully integrated, cloud-based healthcare management and medical billing solution. The Georgia-based companies will operate as simplifyMD and Azalea Health during the transition, with the products and services of both marketed under the Azalea Health brand. Azalea founder and CEO Baha Zeidan will lead the new company.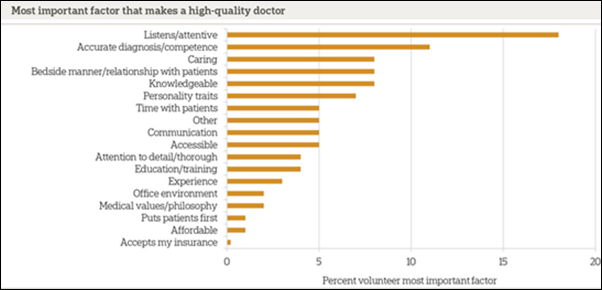 A new study from the Associated Press-NORC Center for Public Affairs Research analyzes the public's opinion of the quality of healthcare providers. Key findings include:
Most patients focus on a physician's personality traits rather than effectiveness of care or outcomes.
An overwhelming majority of patients believes that requiring doctors to report the effectiveness of their treatments and patient satisfaction with care would improve the quality of care provided.
Less than a quarter of patients are receiving provider quality information, and most are not very confident they could find such information they can trust on their own, including direct comparisons of physicians.
Patients would trust word-of-mouth and personal recommendations from doctors far more than provider quality data from the government or third parties.
About half of those surveyed believe that higher quality care generally comes at a higher cost, while 37 percent say there is no real relationship between quality and cost.
Patients without insurance face more challenges in finding information about provider quality and cost; at the same time, they are more likely than the insured to think public reporting of such information would improve the overall quality of care doctors provide.
It's fairly telling that the top physician characteristic most valued by patients is the ability to listen and be attentive – two characteristics many physicians feel are being lost thanks to the intrusion of EHRs into the exam room.
---
HIStalk Practice Announcements and Requests
It's that time again. The HIStalk Practice Reader's Survey is now live. I am looking forward to learning about what readers like and don't like, and what you'd like to see more and less of on the site. The survey is short, so shouldn't take more than five minutes. One lucky respondent will receive an Amazon gift card for taking the time to help me make HIStalk Practice even better.
Reminders: Providers and consultants are welcome to share an "Idea of the Day" with the HIStalk Practice audience.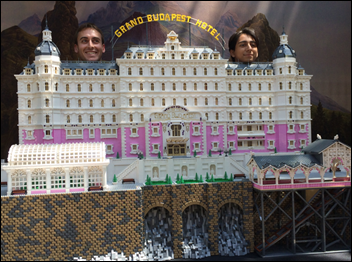 Watching: The Grand Budapest Hotel. Director Wes Anderson isn't for everyone, but in my book he can do no wrong, especially when it comes to casting, soundtracks, and Lego tie-ins. Coincidentally, I saw The Lego Movie around the same time, which was just as good, though in an entirely different way.
---
Acquisitions, Funding, Business, and Stock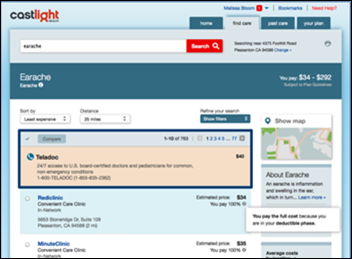 Castlight Health and Teladoc partner to offer customers the ability to integrate Teladoc's telemedicine offerings into Castlight's technology. Employees that use Castlight's platform to search for medical services will now be presented with telemedicine options as available.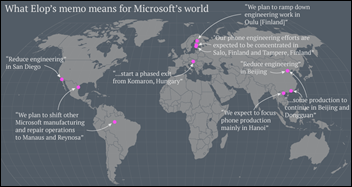 Microsoft announces that it will cut 18,000 jobs in the next year – 14 percent of its workforce – as it moves forward with plans to consolidate its Smart Devices and Mobile Phones units. The map above shows the regions around the world that will see the most change in operations, including Finland, where hardest-hit Nokia, acquired by Microsoft earlier this year, is headquartered.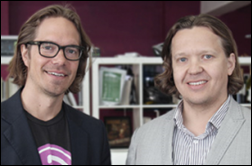 Online doctor search vendor BetterDoctor closes $10 million in Series A funding. Company founders Ari Tulla and Tapio Tolvanen are both Finnish and former high-ranking Nokia software developers. I assume some of their Finnish Nokia colleagues are part of the 1,000 jobs being downsized in that country.
Athenahealth announces Q2 results: revenue up 27 percent, adjusted EPS $0.32 vs. –$0.08, beating expectations for both. Mr. H summarized the company's recent earnings call here, noting the current state of the company's More Disruption Please program and the "big miss" that is Epocrates. 
---
Announcements and Implementations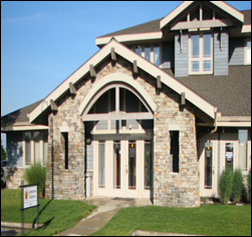 Cornerstone Pediatrics implements Lathem's PayClock Online time and attendance system. Practice Manager Angela Powell notes the cloud-based system's easier accessibility has enabled her to cut payroll time in half.

EHNAC announces the Accountable Care Organization Accreditation Program for ACOs and related IT service organizations. ACOAP assesses network infrastructure and exchange connectivity in the areas of confidentiality and privacy, and technology processes and security; and focuses on technical performance, business processes and resource management. The announcement comes on the heels of EHNAC's partnership with WEDI to establish a Practice Management System Accreditation Program.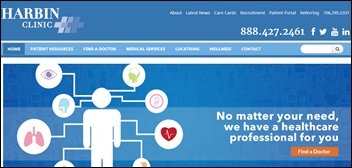 Harbin Clinic (GA) and Cigna launch a collaborative care initiative that will benefit 5,300 Cigna customers. The program aims to improve outcomes and lower costs by using patient-specific data from Cigna to help identify patients being discharged from the hospital who might be at risk for readmission, as well as patients who may be overdue for health screenings or who may have skipped a prescription refill. Harbin Clinic is making quite a name for itself when it comes to rural healthcare facilities participating in new care models and technologies. Last year it participated in the MyJourney Compass pilot project, which provided cancer patients with Nexus 7 tablets to help them securely communicate with providers, access health information and obtain credible information online.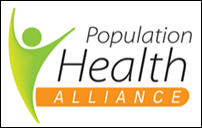 The Population Health Alliance announces four new member organizations: behavioral change company Coach Alba; power and related-technologies provider Cummins Inc.; Kognito, a behavior change company that specializes in immersive experiences; and health optimization firm Welltok.
---
Government and Politics

ONC head Karen DeSalvo, MD says in a recent interview that by 2015 the office will have an interoperability road map "that is specific enough that people will know what they're supposed to do when." That will no doubt come as welcome news to physicians and vendors who read the agency's recent 10-year vision for interoperability report but were left with questions around timing. I wonder if DeSalvo feels the need to speed up interoperability efforts before ONC's funding dwindles further, and the private sector siphons off more ONC leadership.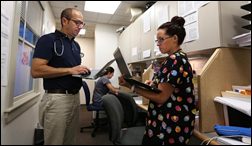 DeSalvo also responds to House Energy and Commerce Committee members who questioned ONC's regulatory authority earlier this summer, particularly as it pertains to the creation and oversight of the Health IT Safety Center. She notes that the Proposed Strategy and Recommendations for a Risk-Based Framework report did not propose that the Health IT Safety Center would have the authority to regulate health IT, and that a possible plan to levy user fees on companies appears to be outside of the ONC's statutory authority. The government dialogue comes at a time when EHRs and their relationship to adverse patient safety events are being scrutinized, and rightly so. This article highlights the fact that electronic data hazards have been ranked as the number-one patient safety concern for 2014.

CMS kicks off its search for a new Healthcare.gov technology vendor, noting in its 84-page solicitation that it is looking for a business "capable of working under aggressive time constraints." Duties will include providing design, development, testing, implementation, documentation, services, analysis, maintenance, and support for the federal exchange. A quick scan of the RFP didn't turn up mention of proposal due dates, so I can only assume time is of the essence. The next proposed open enrollment period starts November 15.
---
Research and Innovation
Johns Hopkins medical student Shiv Gaglani prepares to launch Quantified Care, an online marketplace for physicians and consumers. He is looking to raise $20,000 via Indiegogo to launch the website, which will include mobile health devices for sale and practical advice about how clinicians might use them. It's an interesting and timely concept, given the volume of innovative digital health devices coming to market, and the questions physicians have around their ability to actually improve workflows and outcomes.
---
People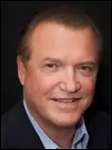 Ray Payette (Blueprint Software Systems) joins Nightingale Informatix Corp. as CTO.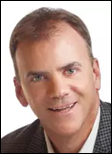 Marty Beard (LiveOps) is named COO of Blackberry.
---
Other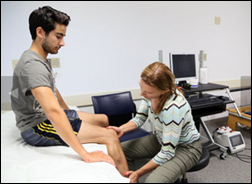 The local paper highlights Cleveland Clinic Sports Health (IL), which offers a biweekly Dance Medicine Clinic to active dancers. Every staff member is a former or current performer, giving them a unique edge when it comes to communicating with their patients about dance-related symptoms and injuries. It would be interesting to see if they've been able to create dance-friendly templates within the clinic's Epic EHR.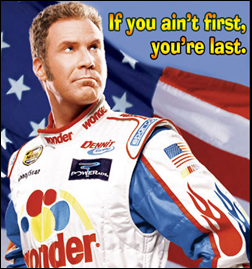 I had the pleasure recently of hearing John Marshall discuss the role passion and leadership played in his ascent from humble door-to-door Wi-Fi hotspot salesman to general manager and senior vice president of AirWatch by VMWare. I was struck not only by his PowerPoint love for Talladega Nights, but by the emphasis he put on flexibility when it came time to pivot the business into the mobile device management company that it is today. The abrupt change in direction was due in large part to Marshall's chance tradeshow encounter with an Apple rep wielding a first-generation iPhone.
---
Sponsor Updates
---
Contacts
Mr. H, Lorre, Jennifer, Dr. Jayne, Dr. Gregg, Lt. Dan, Dr. Travis
More news: HIStalk, HIStalk Connect.
Get HIStalk Practice  updates.
Contact us online.