Portals and Virtual Visits and Engagement … Oh My!
This is a special time of year for our little practice. We opened our then-brand-spanking new office on Halloween 2006. And on that day, apropos to the occasion, our office was filled with ghouls and goblins, warlocks and witches, jack-o'-lanterns and Sponge Bobs. We had, as Dorothy would say, an office filled with "lions and tigers and bears…oh my!"
Eight years on, as we prepare for our anniversary celebrations, it occurs to me that our lions and tigers and bears have been replaced.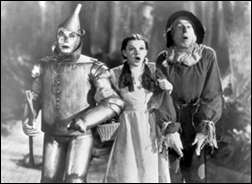 Owing in large part to the techno-geek who runs the joint, we've always been inclined toward gadgets and gizmos of the electronic sort. From digital scales and stadiometers to electronic vision screeners and audiometry tools to touchless everything and antibacterial fabrics (for contagion control) to implementation of Universal Design concepts and workflow planning from pre-Day One – we've employed all kinds of jazzy tech.
Obviously, the use of HIT/EHR/EMR/computers was part and parcel of this digital development, again from pre-Day One. For a while, those tools were pretty "wow, cool," but they've pretty much moved into the passé phase of their impressiveness. The New HIT Kids On The Block are now fully patient-facing … and the early results, at least anecdotally, are very much a resurgence of the "wow, cool."
To be honest, patient engagement tools seemed a little scary, not because engaging patients was boo-ful, but because of the whole "OMG, another workflow processes change" thing. But, our experience with patient engagement has been nothing but positive, from both sides of the patient-provider coin. Sure, it takes some effort, as does any change to workflow and "thoughtflow." And it takes some willingness to experiment and adapt to successes and not-so-successes.
For instance, we found that all the marketing and signage and balloons and streamers in the world don't hold a candle to the power of office staff talking to and encouraging each and every patient/parent to interact with the portal, to sign up and to actually use it. And, the more we think to communicate via our "online care center," the more our families think to use it, both in response to us and in initiation of conversations.
Personally, I was concerned that using a patient portal would demand more from us and be less efficient than our tried and true communication workflows – i.e., telephones, letters, and faxes, basically. Nothing could have been less true. I love using the portal, when appropriate, and find that I'm actually interacting more with my families and feeling less stressed about keeping up with provider-patient communications than ever before! It probably helps that we found an absolutely beautiful patient portal tool that's as easy on the eyes as it is to use. It's so nice that almost every day I get some parent commenting on how much they love it. It's definitely as, if not more, efficient than other communication methods. Plus, I think it's made me more responsive and more communicative. I honestly think it's made me a better healthcare provider.
Building on the success of this newfound satisfaction with better communication, we've also decided to start offering virtual visits to our families. We're just rolling this out, but from the results of preliminary informal surveys of many of our families it appears that many, if not most, would be interested in having the online visit option, when appropriate. "Save time, save gas, save money." I can't say yet how well the rollout will actually work, but again we found a really great, and affordable, HIPAA-compliant tool and our test runs have been superb. (And it helps that the development folks behind the virtual visit tool, just like the teams behind our patient portal and our wonderfully usable EMR, are just fantastic!)
And, remember, this is all in a small practice in rural, little Nowhere, Ohio, with a Medicaid population of over 40 percent. We're not talking big-city, techno-savvy, Starbucks-drinking, cutting edge-concerned, modern-day Yuppies. We're talking salt of the earth, small town types, many of them farm folks. It appears that folks all over are open to better healthcare communication options. (Duh.)
It's funny: Our patient engagement efforts appear to have the power to engage us providers right along with our patients/families. Thus, this Halloween, it's far less spooky in our office with portals and virtual visits and engagement … oh my!
From the trenches…
"Once I had brains, and a heart also; so, having tried them both, I should much rather have a heart." – The Tin Man (L. Frank Baum, The Wonderful Wizard of Oz)
Dr. Gregg Alexander, a grunt in the trenches pediatrician at Madison Pediatrics, is Chief Medical Officer for Health Nuts Media, an HIT and marketing consultant, and sits on the board of directors of the Ohio Health Information Partnership (OHIP).
---
Contacts
Mr. H, Lorre, Jennifer, Dr. Jayne, Dr. Gregg, Lt. Dan, Dr. Travis
More news: HIStalk, HIStalk Connect.
Get HIStalk Practice  updates.
Contact us online.