Top News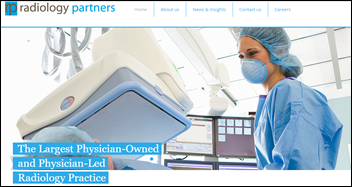 Starr Investment Holdings invests $700 million in Radiology Partners, which bills itself as the largest radiology practice in the US. The practice, which employs 1,400 radiologists across 21 states, will use the funding to continue its growth into new markets and to purchase and develop new technologies.
Radiology Partners also offers consulting, IT, and revenue cycle management services.
---
HIStalk Practice Musings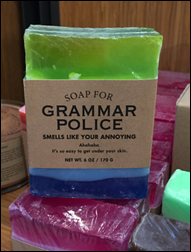 I couldn't help but laugh out loud when I saw this, at the local surf shop of all places. I would have bought one for Mr. H had the packaging mentioned the Oxford comma.
---
Webinars
July 25 (Thursday) 2:00 ET. "Meeting patient needs across the continuum of care." Sponsor: Philips Population Health Management. Presenters: Cindy Gaines, chief nursing officer, Philips Population Health Management; Cynthia Burghard, research director of value-based healthcare IT transformation strategies, IDC. Traditional care management approaches are not sufficient to deliver value-based healthcare. Supplementing EHRs with advanced PHM technology and a scalable care management approach gives health systems proactive and longitudinal insights that optimize scarce resources in meeting the needs of multiple types of patients. This webinar will address the key characteristics of a digital platform for value-based care management, cover the planning and deployment of a scalable care management strategy, and review patient experience scenarios for CHF and diabetes.
July 31 (Wednesday) 1:00 ET. "Modern Imaging Technology for the Enterprise: Mercy's Approach That Improved Imaging Cost, Speed, Capacity, and Care Quality." Sponsor: Mercy Technology Services. Presenter: Jim Best, executive health IT consultant, Mercy Technology Services. Enterprise imaging has become as critical as EHRs for transforming patient care, but many health systems are struggling with the limitations and costs of dated, disconnected PACS even as imaging volumes grow and radiologists report increasing levels of burnout. Radiologists at Mercy were frustrated by its nine disparate PACS, which required them to toggle between workstations, deal with slowdowns and poor reliability, and work around the inability to see the complete set of a patient's prior images, even as demands for quick turnaround increased. In this webinar, MTS — the technical backbone of Mercy — will describe the lessons they learned in moving to a new best-of-breed PACS platform that increased radiology efficiency by 30%, with the next phase being to take advantage of new capabilities by eliminating third-party reading services and distributing workload across radiology departments to improve efficiency, capacity, and timely patient care.
Previous webinars are on our YouTube channel. Contact Lorre for information.
---
People
Consulting firm Comagine Health names Marie Dunn (Health Catalyst) SVP for research and innovation, and Juliana Preston (HealthInsight) SVP for systemwide quality improvement, and promotes Dan Lessler, MD to SVP for clinical leadership.
---
Announcements and Implementations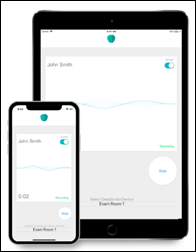 DrChrono adds DeepScribe's AI-powered note-taking app to its EHR.
---
Telemedicine

NHS psychiatrist and columnist Max Pemberton writes about his experiences with the GP at Hand app, both of which left him with misdiagnoses and incorrect prescriptions. Aside from his personal use of the glitchy Babylon-powered app, Pemberton points out the lack of evidence surrounding virtual care's safety and clinical efficacy. He also worries that the app's young, wealthy, tech-savvy users aren't really the demographic England's healthcare digitalization efforts need to focus on; and that brick-and-mortar practices will suffer as telemedicine apps siphon off their patients and overworked GPs looking for more flexible schedules. "I think there's a place for apps," he writes, "but this will not save the NHS. It provides a nice, convenient alternative to seeing a doctor, but it can no way replace physical GP surgeries. And the way it has been rolled out risks undermining NHS GP practices and hastening their decline."
---
Research and Innovation
PatientPop releases its latest online reputation management report. The survey of 233 providers reveals that competing priorities are likely forcing physicians to give short shrift to patient feedback and online reputation management:
Just over a third don't ask for feedback.
Half of survey-takers don't have a process in place to monitor feedback or online reviews.
Nearly 18 percent of those who do monitor online reviews do not respond to negative feedback; half of those do so because they don't think it will make a difference.

New research from Vanderbilt University Medical Center (TN) finds that independent physicians have not kept up with federally-mandated EHR maintenance as much as their employed counterparts. The study of nearly 300,000 physicians found that:
Forty-nine percent of independent physicians attested to Meaningful Use at least once, versus 70 percent of physicians in group or hospital practices.
Nearly half of independent MDs who had attested between 2011 and 2013 dropped out of the program by 2015, while fewer than 20% of their employed counterparts did the same.
Independent physicians who participated in the program on their own were more likely to join integrated systems than physicians who did not participate.
Researchers suggest that the drop-out rate for independent physicians was likely due to the fact that the benefits didn't outweigh the costs of maintenance. They also surmise that a lack of up-to-date technology may have induced some physicians to opt for employment or retirement.
---
Other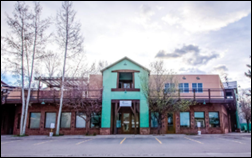 Mountain Family Health Centers Director of Data Quality Chris Tonozzi, MD shares his thoughts on EHRs in the wake of a NextGen upgrade across the FQHC's six locations in Colorado. Staff spent two half-days in training and slowed their schedules for two weeks to allow for time to adapt to the software's changes. Tonozzi, who is also known as the "Data Doctor," shares several ways in which the EHR has helped improve efficiency:
We make active efforts to make good use of the data that is generated from the EHR. For example, most of our quality improvement goals are based on data from the EHR, including our hypertension control rates, our diabetes control rates and our tobacco cessation counseling rates.
We regularly coach clinical staff on the connection between their EHR data input and the desired quality outcomes. We continue with a series of "Lunch and Learns" in which we review the outcomes, and how to best document the care related to these outcomes in the EHR.
During the EHR upgrade this summer we've had a team of very dedicated providers, nurses, medical assistants, office staff and IT staff configuring, training and testing. The upgrade happened with a minimum of disruption.
We make time for clinicians and other users to write their notes and orders in the EHR. Our staffing patterns and clinic schedules account for much of the time needed to document in the EHR.
---
Sponsor Updates
USPTO awards Medicomp Systems a patent for the intelligent filtering of health-related information in its Quippe solution.
EClinicalWorks will exhibit at the 2019 FACHC Annual Conference July 21-24 in Fort Lauderdale, FL.
Blog Posts
---
Contacts
More news: HIStalk.
Get HIStalk Practice updates.
Contact us online.
Become a sponsor.